EPICURE DIGITAL INTEGRATED WITH
COMPUTRITION HOSPITALITY SUITE®
Computrition, Inc. is a leading provider of fully integrated foodservice and nutrition management software systems in the hospitality and healthcare industries. With customers throughout the United States, Canada, and worldwide, Computrition provides an all-encompassing software system designed to increase efficiency and productivity in the healthcare, hospitality, university, school foodservice, military and correctional industries.
COMPUTRITION® CLIENT SHOWCASE
" Carle Foundation Hospital in Urbana, IL was seeking a digital menu solution that would integrate our nutrition software with a digital signage platform. We were planning a multi-year renovation plan, which incorporated multiple locations on the campus. The team at Epicure Digital provided the perfect solution to meet our needs -- full integration with our Computrition software, attractive well designed displays, and online nutritional information for our customers. Through a truly collaborative effort we were able to create a solution that met our specific needs. Could not ask for a better partner to meet our signage needs."
Kevin Steffes
Food Service Director
Carle Health
WYSIWYG CONTENT MANAGEMENT SYSTEM
The Epicure Digital Content Management System ("CMS") is easy to learn and easy to use because of its What You See Is What You Get View of your Computrition system's menu data in your Epicure Digital custom engineered and designed menu board Templates.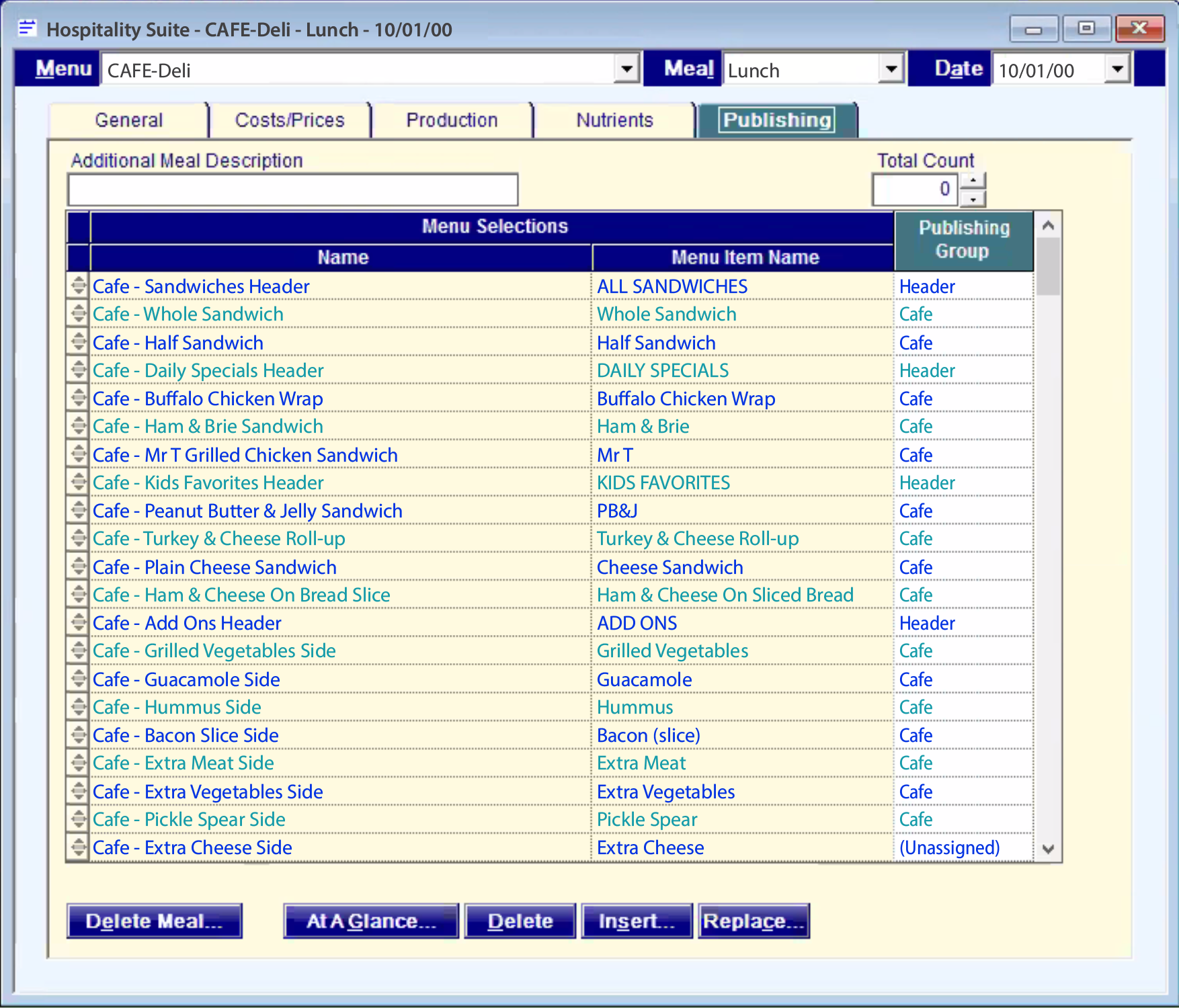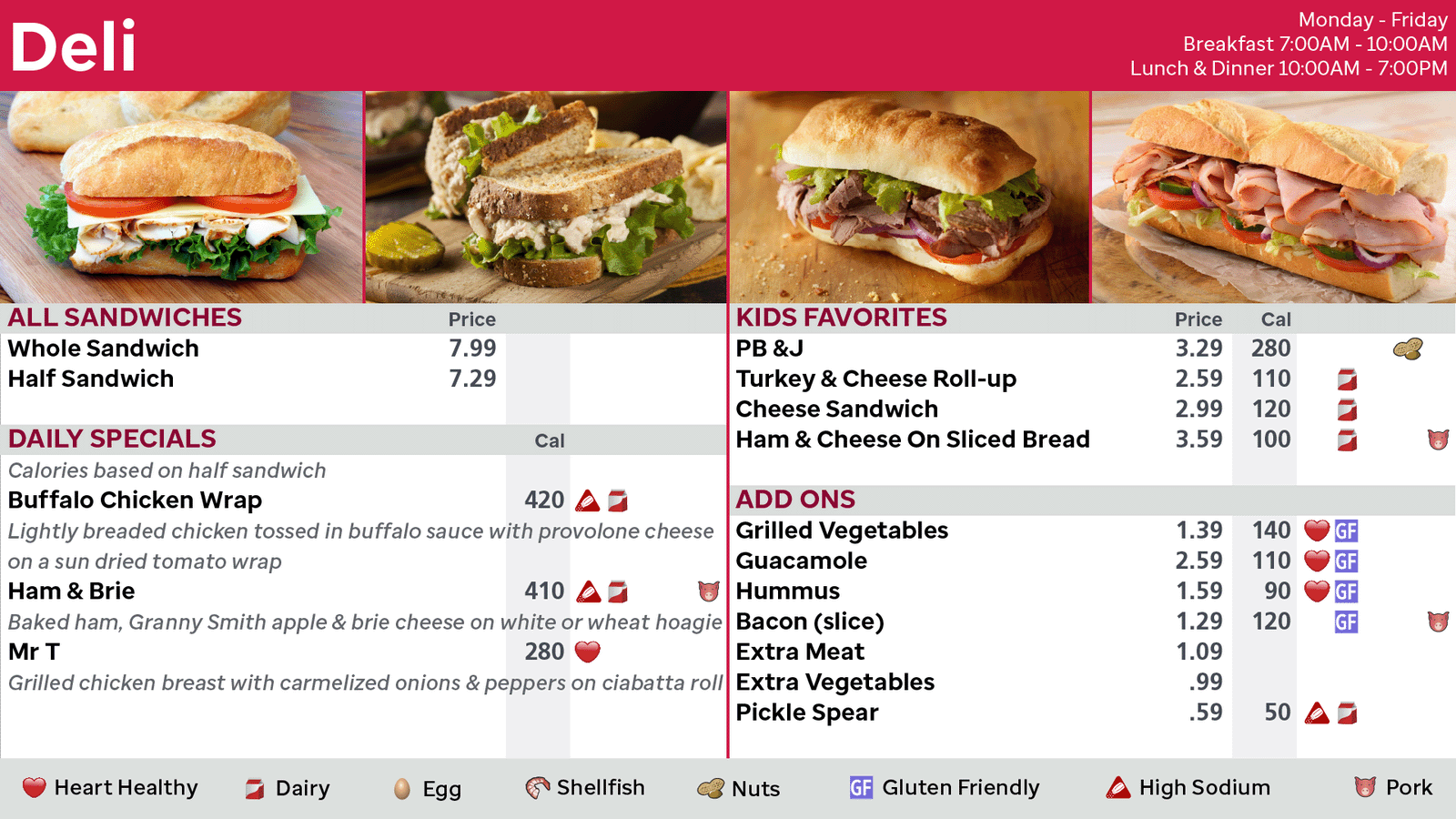 The Computrition Hospitality Suite Video Display Board XChange Gateway ("Gateway") allows you to:
Create publishable front-of-house Category Headers with publishable front-of-house descriptions
Create publishable front-of-house Menu Item Names and Descriptions
Format the front-of-house headers, names and descriptions with formatting codes
The graphic above shows how you work with both a Computrition window and a CMS window open in the same browser simultaneously, allowing you to see your Computrition menu data in the CMS as you enter it in Computrition. For training, you'll have a session with Computrition to learn how to use the Gateway, and as many sessions with Epicure as desired to learn how to use the CMS. However, because of the immediate visual feedback from using our WYSIWYG CMS, you'll learn how to enter your menus and formatting codes, and correct errors, very quickly. Typically, it takes no more than two training sessions and a few hours of data entry to be on your way to displaying your beautiful new menus.

If you don't have the Gateway or a compatible version of Computrition, you must purchase them from Computrition.
"​Computrition has awarded Dartmouth College as the first place winner of the eighth annual Prodigy Award for substantial advancements in on-campus dining services by way of automation: with the use of Epicure Digital Menu Boards integrated with Computrition solutions, Dartmouth displays real-time menu choices, allergen and nutritional information as well as religious classification. The use of automation as opposed to manually typed-out allergen information on the menus reduces the chance of typos and human error. The savings seen with the integration of Computrition and Epicure has been 40 administrative hours per week and approximately $75 per week in paper and toner supplies...By streamlining the menu board systems for both '53 Commons and Courtyard Café, supervisors and managers have been able to spend less time on the computer and more time on the floor. This allows for increased customers service which in turn creates a more satisfied customer base; increasing the bottom line."
Arliene Belock
Administrative & Catering Coordinator
Dartmouth Dining Services
Network Configuration Plan with Computrition® Integration
This Epicure Digital Menu System ("System") uses our Epicure Digital Centra Cloud Server ("Server") to integrate with Computrition Hospitality Suite to control, maintain and schedule menus and content on Samsung Smart Signage Platform ("SSSP") LED LCDs. Its Online Menu module includes hyperlinks for posting your daily menus on your website for viewing on computers, smart phones and tablets. You will control the System via a web browser (Chrome, Firefox or Safari) on any computer, Windows® or Mac®, that has Internet access to our Server.

Samsung SSSP LED LCDs include Ethernet and WiFi (WPA 2 Personal security only) network connections and the Samsung Smart Signage Platform software and hardware for making each LCD its own media player. Each SSSP LCD is powered by a 1.7GHz quad-core system-on-chip with 2.5GB, LPDDR4 1.5GHz 64 Bit main interface memory and 8GB FDM. It provides a powerful streamlined solution for receiving and displaying its content, reducing the need for a separate media player and reducing the total cost of ownership in digital signage deployments through savings in hardware installation and operating costs. You may use existing LCDs and media players if you can configure the media player to launch the Google Chrome browser to open in kiosk mode and to resolve to our Server upon power up; and you assume all responsibility for the maintenance and management of the media players. Whenever one of these LCDs or its media player becomes defective, we would like the pair to be replaced with a single SSSP LCD.
At each meal period, our Centra Server will query the Computrition Hospitality Suite Video Display Board XChange Gateway ("Gateway") server typically installed within your firewalls on a virtual web server in a DMZ, never on the Production Server (or a cloud if set up that way), for the current menu data. The Gateway will then query its Production Server for the data, returning xml files to the Centra Server (private health information is unavailable to us) which are immediately composed into HTML5 pages along with all other content uploaded to our Server by you using its web-based content management system. Each SSSP LCD will then connect to the Centra Server via the LCD's Ethernet or WiFi (WPA2 Security only) connection to refresh itself with its new menu data and content. The LCDs may also require access to news and weather service RSS feeds external to your firewall.
Download PDF
CENTRA CLOUD SERVER INTEGRATED WITH
AN ON-PREMISE COMPUTRITION FOOD SERVICE SYSTEM
Shown here are Samsung SSSP LCDs connecting over the Internet to our Epicure Digital Centra Cloud Serverthat connects to your on-premise Computrtition menu planning & nutritiondata base system

CENTRA CLOUD SERVER INTEGRATED WITH
AN ON-PREMISE COMPUTRITION FOOD SERVICE SYSTEM
Shown here are Samsung SSSP LCDs connecting over the Internet to our Epicure Digital Centra Cloud Server that connects to your cloud-based Computrition menu planning & nutrition data base system