EPICURE DIGITAL INTEGRATED WITH
CBORD FOOD SERVICE SYSTEMS
CBORD, founded in 1975, is a leading provider of campus and cashless card systems, food and nutrition service management software, integrated security solutions, nationwide student discount and commerce programs, and housing and judicial process management software. CBORD products and services are used by more than 6,000 organizations in the U.S., Canada, Europe, South Africa, New Zealand, the Middle East, and Australia.
"​​Epicure Digital provides the best customer service Grinnell Dining has ever experienced! The need for customer service for challenges we have with the Epicure Digital Menu System is rare; however, the Epicure Team has responded to our calls on nights and weekends in addition to "normal" service almost immediately. They are very meticulous to make sure all equipment needed to make Epicure work properly is sourced, ordered and in place prior to going live; thus, going live is a smooth process. The Epicure Team has also been great to work with to make sure all of the digital menu boards and other signage meet the accessibility requirements of our campus. All in all Epicure Digital is a very knowledgeable and service oriented Team. Grinnell Dining is thankful for the Epicure Team and to have Epicure Digital provide our digital signage needs."
Jeanette Moser
Director of Dining Services
Grinnell College
WYSIWYG CONTENT MANAGEMENT SYSTEM
The Epicure Digital Content Management System ("CMS") is easy to learn and easy to use because of its What You See Is What You Get View of your CBORD system's menu data in your Epicure Digital custom engineered and designed menu board Templates.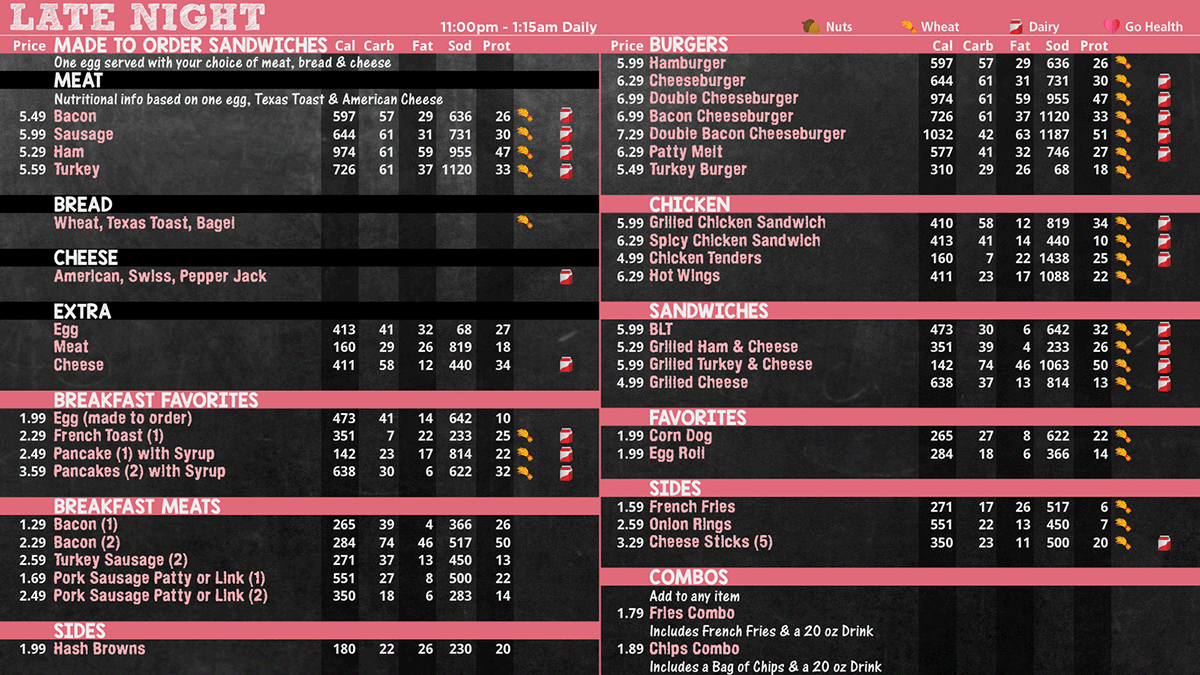 The Menu Display Interface ("MDI") Administrator, which Epicure Digital engineered with CBORD, allows you to:
Select a service menu for publishing on a menu board
Assign it's menu items to publishable front-of-house Category Headers with publishable front-of-house descriptions
Assign publishable front-of-house Menu Item Names and Descriptions to each menu item that become permanently linked to the menu items' recipes in the CBORD data base.

Format the front-of-house headers, names and descriptions with formatting codes.
The graphic above shows how you work with both an MDI Administrator window and a CMS window open in the same browser simultaneously, allowing you to see your data in the CMS as you enter it in the MDI. For training, you'll have a session with CBORD to learn how to use the MDI Administrator, and as many sessions with Epicure as desired to learn how to use the CMS. However, because of the immediate visual feedback from using our WYSIWYG CMS, you'll learn how to enter your menus and formatting codes, and correct errors, very quickly. Typically, it takes no more than two training sessions and a few hours of data entry to be on your way to displaying your beautiful new menus.

If you don't have the MDI or a compatible version of CBORD, you must purchase them from CBORD.
Network Configuration Plan with CBORD® Integration
This Epicure Digital Menu System ("System") uses our Epicure Digital Centra Cloud Server ("Server") to integrate with CBORD Foodservice Suite or NetMenu to control, maintain and schedule menus and content on Samsung Smart Signage Platform ("SSSP") LED LCDs. Its Online Menu module includes hyperlinks for posting your daily menus on your website for viewing on computers, smart phones and tablets. You will control the System via a web browser (Chrome, Firefox or Safari) on any computer, Windows® or Mac®, that has Internet access to our Server.

Samsung SSSP LED LCDs include Ethernet and WiFi (WPA 2 Personal security only) network connections and the Samsung Smart Signage Platform software and hardware for making each LCD its own media player. Each SSSP LCD is powered by a 1.7GHz quad-core system-on-chip with 2.5GB, LPDDR4 1.5GHz 64 Bit main interface memory and 8GB FDM. It provides a powerful streamlined solution for receiving and displaying its content, reducing the need for a separate media player and reducing the total cost of ownership in digital signage deployments through savings in hardware installation and operating costs. You may use existing LCDs and media players if you can configure the media player to launch the Google Chrome browser to open in kiosk mode and to resolve to our Server upon power up; and you assume all responsibility for the maintenance and management of the media players. Whenever one of these LCDs or its media player becomes defective, we would like the pair to be replaced with a single SSSP LCD.
At each meal period, our Centra Server will query the CBORD Menu Display Interface ("MDI" and "CBORD MDI API Service" - see below) that is typically installed within your firewalls on a virtual web server in a DMZ, never on the CBORD Data Service Server or (2) in the CBORD Cloud for o premise systems like NetMenu, Net Nutrition and Fusion, for the current menu data. The MDI will then query its CBORD Data Service Server (see below) for the data, returning xml files to the Centra Server (private health information is unavailable to us) which are immediately composed into HTML5 pages along with all other content uploaded to our Server by you using its web-based content management system. Each SSSP LCD will then connect to the Centra Server via the LCD's Ethernet or WiFi (WPA2 Personal Security only) connection to refresh itself with its new menu data and content. The LCDs may also require access to news and weather service RSS feeds external to your firewall.
DOWNLOAD PDF
CENTRA CLOUD SERVER INTEGRATED WITH
AN ON-PREMISE CBORD FOOD SERVICE SYSTEM
Shown here are Samsung SSSP LCDs connecting over the Internet to our Epicure Digital Centra Cloud Server that connects to your on-premise CBORD service menu planning &nutrition data base system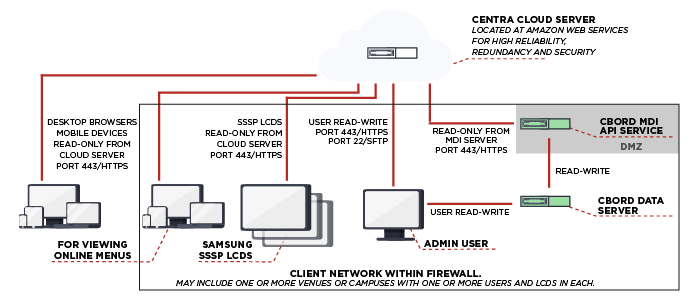 CENTRA CLOUD SERVER INTEGRATED WITH
A CLOUD-BASED CBORD FOOD SERVICE SYSTEM
Shown here are Samsung SSSP LCDs connecting over the Internet to our
Epicure Digital Centra Cloud Server that connects to your cloud-based CBORD
service menu planning & nutrition data base system